So, the word on the street is, I am pretty miserable at making DVD menus. I can do them, they won't be very entertaining, and it'll take me a week to complete one menu, but I can do them. Recently, while going through some of my daily forums and sites, I ran across a post that caught my eye on DVinfo.net. It was by Jon Geddes, from Precomposed.com, and he was advertising his website that sells motion DVD menu templates that are fully customizable. I was immediately attracted. As soon as I saw the first preview, I was blown away. These menus are pretty slick. Each motion menu has its own theme, and has very clean and fluid transitions in between each menu: main menu, scene selection menu, & bonus content menu. I consider myself pretty good at After Effects, and I could probably make these menus myself with ALOT of time and creativity, MAYBE. But, with my very limited knowledge in DVD authoring and motion menus with transitions and such, there is no way this entire process would be possible. The whole package, with compositions matching various settings, (NTSC, PAL, HD, SD) and each comp singled out into a precomposed timeline, which is dynamically linked to an entirely different project, which takes the video & audio assets from a specified folder, is just crazy.
You can customize anything in the project to make it your own, colors and fonts being the main attraction for most when viewing a DVD menu. And if your good enough at AE, the customization has no limits, such as the camera move, or adding new elements like particles or lens flares. The sound effects that come with the menu are pretty cool. They 'whoosh' and 'flutter' to the items on screen. And, if you pay close enough attention, there is a bit of panning going on as well, i.e. if the big title flies by the camera from the left, the 'whoosh' will come slightly more from the left speaker, making it seem as though it really is coming from your left.
When first unzipping the downloaded file, it might seem a little overwhelming. There are tons of folders and files with loads of content, each serving an individual purpose somewhere down the road, whether that purpose is animating, adding audio, authoring, dynamically linking, etc. But, Jon has some great video tutorials that walk you through every aspect of creating an epic motion menu. I had to refer to these tutorials multiple times during the entire process, especially during the Encore build process. I've never seen so many assets and dynamic links and pickwhips in one project.
The only downfall to motion menus is that after each menu transition, there is a slight 'pause' before kicking in the actual menu with buttons and navigation. This is not a problem for the video, as it is almost unnoticeable, but the audio track pauses and turns out to be very annoying after traveling from menu to menu, several times. The problem is not with the Precomposed Motion Menu Templates, but a problem with DVD authoring in general. Most DVD's that you watch have that 'pause' after the transitions, but it is very well hidden. I would suggest fading out the audio after each transition, and then back up immediately once the actual menu starts. This will make for a more fluid transition into menus. The 'pause' is still there, but not as sudden. I wish there was a way to overlay an audio track over the entire motion menu, and have that play throughout. Except, that concept is, well…impossible, as the laser can only read one certain point on a disk at a time, so you must specify what audio you want under the video. Oh well.
The particular motion menu that I purchased was "White Wedding." A project specifically designed for wedding DVD's, and inspired by international award winning cinematographer, Ray Roman. The project also comes with a DVD cover insert, as well as a DVD disk label photoshop file to match your motion menu. I must say, this motion menu has everything you need to make the presentation of your wedding movie extravagant. I mean, nowadays it's all about presentation. If your initial presentation of the finished product is lame, your entire finished product will take that persona as well.
I think it is safe to say that this is well worth the small investment. Everyone whom I have shown this motion menu has had nothing but positive comments and praise. Keep up the good work Jon, and I can't wait to see the next Pro Motion Menu Template from Precomposed.
Below, I have posted a customized example of the matching DVD packaging that is bundled.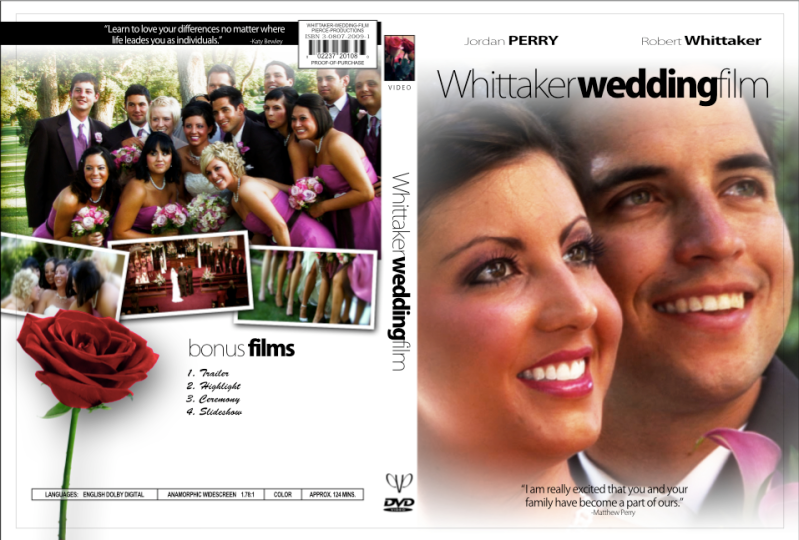 Immediately after downloading, I backed up the .zip file and the unzipped folder onto a DVD-R, just in case of a hard drive failure. All content will also fit on a CD-R (700MB). The .zip file is about 18 MB, and the unzipped folder is about 60 MB.