I recently purchased a new plug-in for color grading called Magic Bullet Looks. There's quite a few products in the Magic Bullet line at Red Giant Software, but "Looks" is the main one that stood out to me as being worth the few hundred bucks that it costs.
There is over 100 pre-made 'looks' that allow you to color grade a clip or image with just a couple clicks of the mouse, literally. Some 'looks' include basic B&W's, tints, film stocks, Hollywood style, over-saturated/under-saturated, over-contrast, etc. Some 'looks' seem a bit too crazy for me, but with enough tweaking, and a little creativity, you can make any video clip, look COMPLETELY different, and alot more professional. MBL comes with a bundled plug-in called Misfire. Misfire allows you to add scratches, fading, splotches, etc. that is found on old film from earlier eras. Combine that with a sepia tone and a Posterize Time effect, and you can make a pretty simple yet realistic old film look inside your non-linear editing system.
Magic Bullet Looks lets amateuresque footage look like it came from a Red in the hands of Phillip Bloom. It's amazing how simple the process is inside of the Looks Builder application. While three wheel color-correcting does get the job done very well sometimes, it takes a bit of patience and a keen eye for detail. Inside of MBL, you do have 'lift/gamma/gain' which gives you control of very similar three wheels, as well as the usual 3-wheels. It runs very fast on my Macbook Pro, even when I am using my NLE and After Effects and Photoshop at the same time. The only problem that I have run across so far is that sometimes it will not load the video preview correctly, meaning that the image that you are using as a reference to color grade will be the wrong image, or a combination of two images and a bunch of random green digital lines. A problem that I have not found a solution to, except turning on/off the mask inversion, then turning it back off/on, then send it to the Looks Builder again. For some reason, this seems to temporarily fix the problem. But, having to do this for every clip that you grade is a big hassle.
Overall, I would have to say that my favorite pre-made look is definitely 'Blockbuster.' It gives a somewhat desaturated look while cooling off the shadows and making everything seem a bit noir. I usually don't leave a pre-made look just the way it is. I will tweak the vignette and the contrast until I get the exact look that I am wanting. I am hugely satisfied with this product and can assure you that I will be using it on 99% of the projects that I do.
A quick custom look to show a subtle, but effective grade.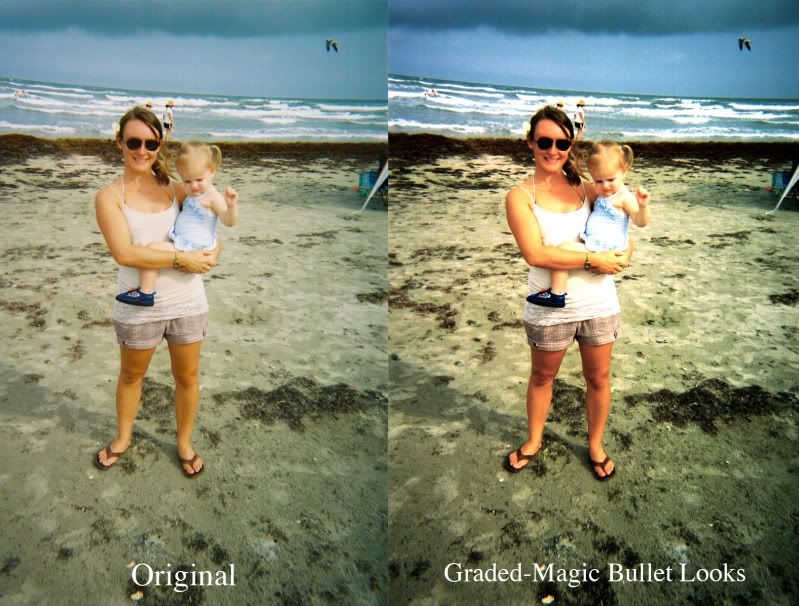 The pre-made look, 'Blockbuster."
A very dramatic color change to show how you can drastically change any video clip or image. The original shot was taken on a disposable camera.

Philip Bloom also has a great tutorial on how he graded his short film, "Return to Dungeness." You can view it here.